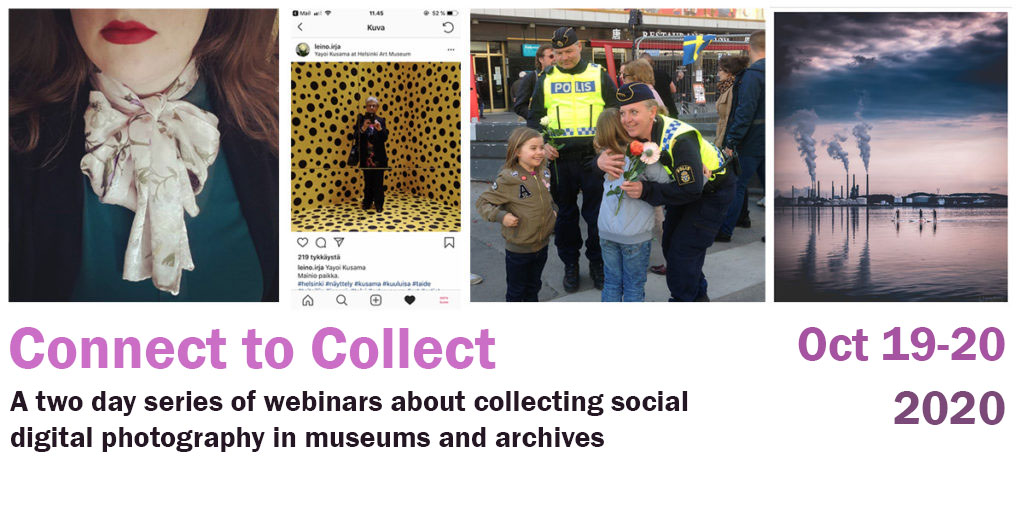 October 19. – 20. 2020 – Zoom 
(Time Zone: Sweden, GMT + 1)
This two-day series of webinars mark the end of the three year Nordic research project, Collecting Social Photography. It replaces the cancelled conference in Stockholm. 
The webinars will focus on two key areas:
The concept of social digital photography and the practical, ethical and political considerations for museums and archives in collecting it – and the general consequences for contemporary collection. 

The Collecting Social Photography project: presentation of the case studies in the project and recommendations.
The webinars which take place on Zoom will host a range of international speakers. You can attend all webinars or take a pick.
Programme
Day 1: October 19.
09:00 Introduction
Session 1: Rethinking photography in the age of social media
09:10 Rethinking the Social Photograph in the age of digital   interconnectivity.
Anna Dahlgren, Professor, Department of Culture and Aesthetics, Stockholm University, Sweden
09:30 Lived Mediation: Online Images as Shared Reality. Lisa Ehlin, Ph.D. Writer and lecturer, Sweden
09:50 Q & A
Session 2: Collecting and Ethics
10.00 Collecting Social Photo Case Studies. Places, Practices and Events.

Bente Jensen, Archivist, Aalborg City Archives and Anni Wallenius, Chief Curator, Collections, The Finnish Museum of Photography
10:20 The Ethics of Preserving Social Media. Sara Day Thomson, Digital Archivist, University of Edinburgh, Scotland
10:40 Q & A

Session 3: AI and Surveillance
11:00 Lacking in Context or Widening Access: Experiments with AI in Cataloguing the Collecting Social Photo Images. Arran Rees, Doctoral Researcher, University of Leeds, England
11:20 Images becoming documents: Tracing the Uses of Visual Technologies in Finnish Passports. Asko Lehmuskallio, Associate Professor at New Social Research, Tampere University, Finland
11:40 Q & A
Tuesday October 20.
9.00 Welcome and wrapping up day one
Session 4: Collecting – The True Story – Part 1
09:10 Your Tāmaki Makaurau: Collecting selfies from Auckland, Aotearoa New Zealand. Shaun Higgins, Curator Pictorial, Auckland War Memorial Museum | Tāmaki Paenga Hira, New Zealand
09:30 #newselfwales – What does the face of New South Wales, Australia, really look like? Paula Bray, DX Lab Leader, State Library of New South Wales, Australia 
09:50 Digital Collecting Across Cultures. Haidy Geismar, Professor, Department of Anthropology, University College London, England
10:10 Q&A + break
Session 5: Institutional Challenges
10:30 Cultural Institutions should answer the Businesses' Hunger for social
impact and meaningfulness? Risto Sarvas, Professor of Practice at Aalto University, Finland.
Session 6: Collecting – The True Story – Part 2
11:00 Collecting and Displaying Social Media in Museum Collections: The Museum of London Experience. Foteini Aravani, Digital Curator, Museum of London, England
11:20 Why Should Social Media be Incorporated into the Museum's Collections? Chris Cooper, Senior Curator contemporary conflict, Imperial War Museum, England 
11:40 Q & As
12.00 Lunch break
Session 7: Results of the project
13:00 "It's all about the white woman." The politics of representation in digital visual heritage. Paula Uimonen, Associate Professor, Department of Social Anthropology, Stockholm University, Sweden
13:20 Recommendations for Collecting Social Digital Photography. Elisabeth Boogh, Collection Strategist, Stockholm County Museum, Kajsa Hartig, Head of Museum Experience and Collections, Västernorrlands Museum.
13:40 Q & A
Wrapping up
14:00-14:30 What's next? Reflections and Discussion about issues discussed in the webinars.
About the project

Collecting Social Photography is a three year international research project that has been funded by Riksbankens Jubileumsfond and Vitterhetsakademien.

Main project partners: Nordiska museet (SWE), Stockholm County Museum (SWE), The Finnish Museum of Photography (FIN), Aalborg City Archives (DK), and Department of Social Anthropology, Stockholm University (SWE).
The main goal of the project has been to develop new work practices  for collecting and disseminating the ephemeral everyday pictures in heritage institutions.
http://collectingsocialphoto.nordiskamuseet.se/about/ 
Anthology
http://collectingsocialphoto.nordiskamuseet.se/connect-to-collect-approaches-to-collecting-social-digital-photography-in-museums-and-archives/
Web app
http://collectingsocialphoto.nordiskamuseet.se/the-web-app-a-tool-for-collecting-social-digital-photography/