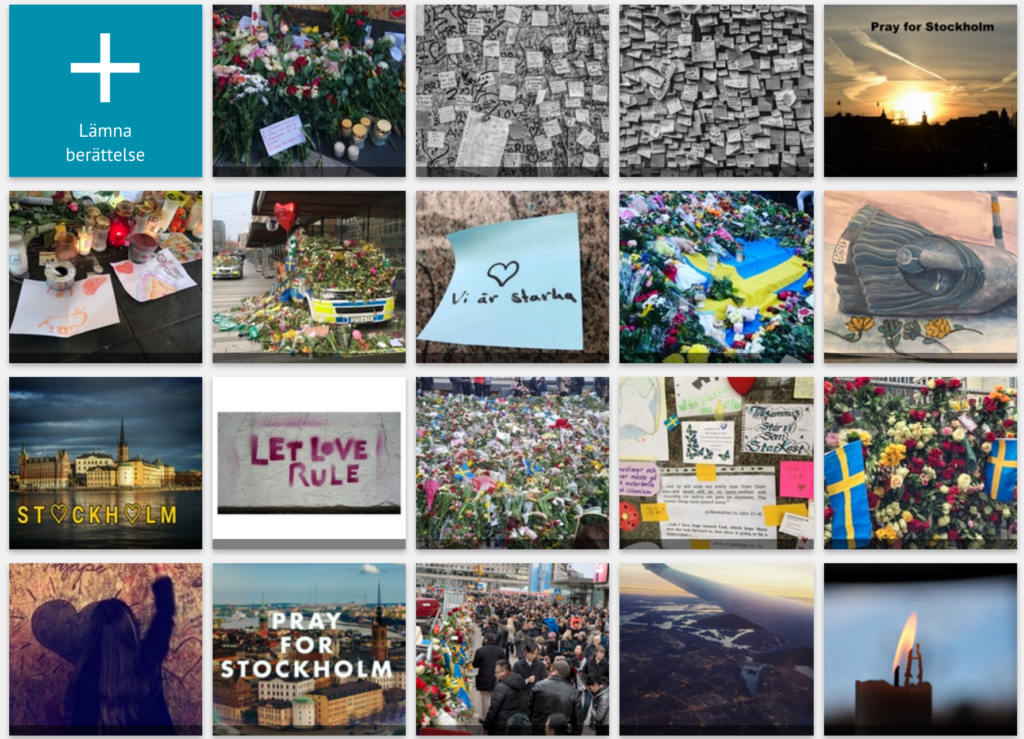 Several case studies will be carried out throughout the project. Current case studies:
01: Study of place related photography on Instagram in the town of Södertälje, Sweden
Period: 2017-03-01 – 2017-12-31


The purpose of this case study is to look at images on Instagram connected to the city of Södertälje, in order to examine the relation between Instagram photography and place, through hashtag #södertälje and geotag Södertälje. Images representative of Södertälje, i.e. demographically (age, gender, ethnicity), but also connected to statistically common topics from personal accounts (f.ex. Scania trucks, self motivation/gym, etc.). The Södertälje Case Study is ongoing. Metadata from January is being collected through third party service Notified. We have extracted metadata from March 16–31 looking closer at the content and testing coding and classification. This is a period where we also have made screenshots from images with hashtag #södertälje and geotag Södertälje. We have in dialogue with Associate Professor Paula Uimonen interviewed three women from Södertälje, about their posting on Instagram. We are planning to do more interviews using photo elicitation. By using the metadata from Notified we have also looked into coordinates of the images from March 16–31 and plotted them onto an open source map. Latest activities involve analysing geotagged images and extracting categories that will be used in an upcoming collecting initiative.

02: Public Questionnaire about the use of personal photographs in social media
Period: 2017-03-27–ff
We have launched an online questionnaire "Do you post images in social media?" on

www.minnen.se

about habits of posting photos in social media. We have encouraged people from Södertälje to respond, but also posted the link in social media open for everyone to respond. So far there are 69 responses to the questionnaire, and the responses will be analysed as a next step.

03: Terrorist attack in Stockholm April 7 2017
Period: April 2017 (with following analysis)
Shortly after the terrorist attack in Stockholm April 7, the Stockholm County Museum launched a collecting initiative in collaboration with the Stockholm City Museum. The website 

Samtidsbild

was used for collecting photos from the event. A few days later the Nordic Museum launched a collecting initiative on

Minnen.se

in order to compare the results with Stockholm County Museum. Different ways of outreach was used, a press release and a great media coverage compared to a sponsored post on Facebook and on Instagram. As a parallel effort metadata was collected through third party service Notified, in order to get an overview of the total amount of images posted online about the event. The main purpose of these initiatives was to learn how to collect social digital photography in connection to larger events/crises in contrast to ongoing everyday life. The purpose was also to further test the collecting websites Minnen.se and Samtidsbild. The results will be more closely analyzed and compared.

04: Current work practices around photography collections
Period: 2017-05 – ff


Professor Helena Wulff will perform interviews around current work practices for photograph collection management. The interviews will begin at the Nordic Museum and the results will form a foundation for further research into work practices in Sweden, Finland and Denmark.

Further case studies are being planned and this list will regularly be updated.
The case studies will deliver empirical material framed by the research questions:
How can data collection policies and practices be adapted to create relevant and accessible collections of social photography?
How can digital archives, collection databases and interfaces be adapted to more accurately disseminate collections to different stakeholders and end users?
How can museums and archives change their role when collecting, to ensure user participation in the production of cultural heritage?
Results from the case studies will create the basis for the new recommendations.
Methods
Three different methods of collecting will be explored:
User-generated collecting performed in cooperation with the users, where the users choose what should be collected to the museum/archive.
Curated collecting where the museum/archive professionals select and acquire photographs.
Harvesting photographs as part of "big data".