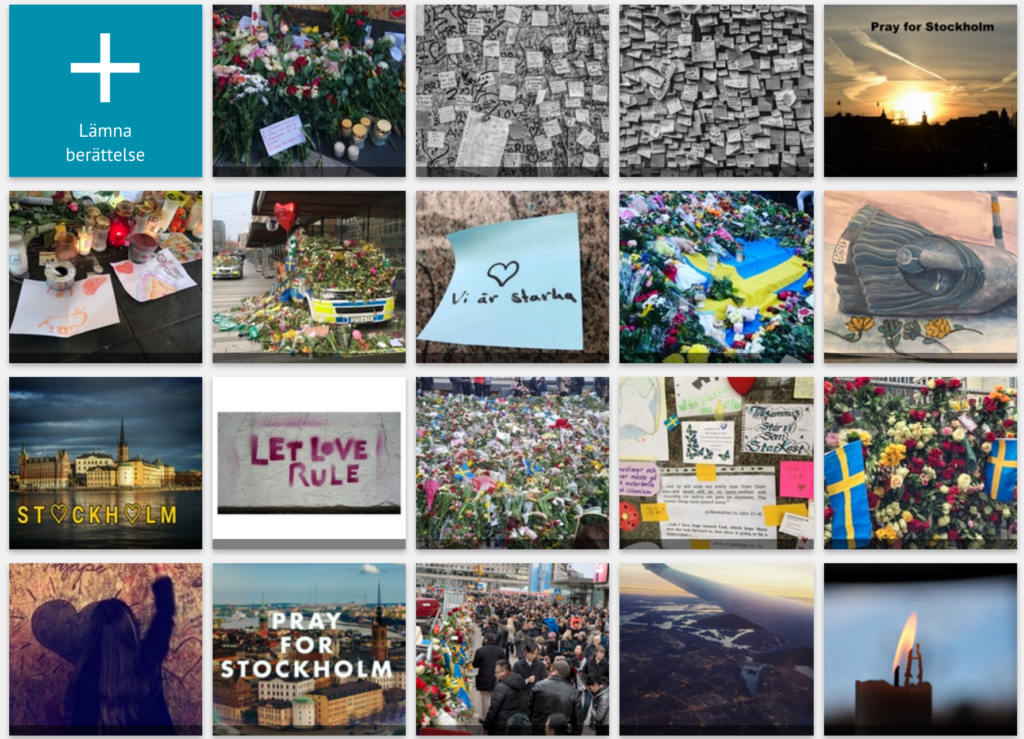 Several case studies will be carried out throughout the project. The case studies will cover the three themes: Place, Practices and Events:
Places

Study of place related photography on Instagram in the town of Södertälje, Sweden
The purpose of this case study is to look at images on Instagram connected to the city of Södertälje, in order to examine the relation between Instagram photography and place, through hashtag #södertälje and geotag Södertälje. Images representative of Södertälje, i.e. demographically (age, gender, ethnicity), but also connected to statistically common topics from personal accounts (f.ex. Scania trucks, self motivation/gym, etc.). Metadata from January is being collected through third party service Notified.. T

Study of place related photography on Instagram in the town of #Aalborg
Hashtag and geolocation using the same method as the Södertälje
Performed by Aalborg City Archives
#mitgandrup and #instachallengeAalborg
Performed by Aalborg City Archives
#weloveaalborg
Performed by Aalborg City Archives

Practices


Social Media Diaries
Performed by The Finnish Museum of Photography.
In Social Media Diaries, the aim was to document and collect visual interaction on social media by two informants. In order better to understand the complex ecosystem of visual social media, one would benefit from asking who connects, where, and in what ways. In the study, the goal was to gain insight into how the informants self-reflected their own practices, networks, interaction, and choices of platforms. The informants were invited to keep a logbook of their use of social media during one day. The images they shared on social media were collected.

Pre History of Visual Social media
Performed by The Finnish Museum of Photography.
InstaSuomi
Performed by The Finnish Museum of Photography

Familyliving – the true story 
Performed by Stockholms Läns Museum

Events

Terrorist attack in Stockholm April 7. 2017
Period: April 2017 (with following analysis)
Shortly after the terrorist attack in Stockholm April 7, the Stockholm County Museum launched a collecting initiative in collaboration with the Stockholm City Museum. The website Samtidsbild was used for collecting photos from the event. A few days later the Nordic Museum launched a collecting initiative on Minnen.se in order to compare the results with Stockholm County Museum. Different ways of outreach was used, a press release and a great media coverage compared to a sponsored post on Facebook and on Instagram. 

#Metoo
Performed by Nordic Museum.
In October 2017 the Nordic Museum launched an online collecting initiative at www.minnen.se in order to capture people's reactions to the viral campaign #metoo. The result has been analyzed by Associate Professor Paula Uimonen and will be published in an upcoming article in Ethnis, later this year.
#knytblus
Performed by Nordic Museum.
Another viral Swedish campaign took place in Sweden in April 2018, partly related to the Metoo-campaign. The project team decided to once again launch a collecting initiative in order to compare the use of photographs in social media in relation to both campaigns.
#juliaalborg #christmasinaalborg
Performed by  Aalborg City Archives.
Aalborg City Archives initiated digital collection from Instagram by launching the project #Christmasinaalborg in December 2012. The archives have conducted the project for seven years, with the latest hashtag #christmasinaalborg17 (#juliaalborg18); today, it is one the case studies in CoSoPho. The advantage of the long period of time is the possibility to identify changes in the use of the platform (Instagram), user behavior, as well as in motifs. The time span allows comparison of observations, as is used in the tradition of longitudinal studies in other research fields.

Research:

 Rethinking the Social and the Photograph in the age of digital interconnectivity  – Research by Professor Anna Dahlgren, University of Stockholm
Concepts, collection and results & research in the #metoo case – Research by Associate Professor Paula Uimonen, University of Stockholm
Visuell kultur, visuell representation och ungdomskultur, relationer online/offline , Ph.D. Lisa Ehlin
 Studies in the use of Image recognition. Analysing photos from the CoSoPho project.  Ph.D student Arran Rees, University of Leeds
Current work practices around photography collections
Period: 2017-05 – ff
Professor Helena Wulff, Univeristy of Stockholm has performed interviews around current work practices for photograph collection management. This has been complemented by a survey to Swedish museums and archives .
Prototype Development
CoSoPho has commissioned Micah Walther Studio to develop a web app for collecting social digital photography, which will be tested in the autumn. It will be distributed through gitHub in March 2020.

Other

Public Questionnaire about the use of personal photographs in social media
Period: 2017-03-27–ff
The project have launched an online questionnaire "Do you post images in social media?" on 

www.minnen.se

 about habits of posting photos in social media. . 
The case studies will deliver empirical material framed by the research questions:
How can data collection policies and practices be adapted to create relevant and accessible collections of social photography?
How can digital archives, collection databases and interfaces be adapted to more accurately disseminate collections to different stakeholders and end users?
How can museums and archives change their role when collecting, to ensure user participation in the production of cultural heritage?
Results from the case studies will create the basis for the new recommendations.
Methods
Three different methods of collecting will be explored:
User-generated collecting performed in cooperation with the users, where the users choose what should be collected to the museum/archive.
Curated collecting where the museum/archive professionals select and acquire photographs.
Harvesting photographs as part of "big data".